Our Services, Your Mission
Specializing in the Bell Helicopter light category of helicopters, Meridian Helicopters performs in-house deep maintenance and refurbishment. We have completed 25 "Like New" transformations of helicopters to date. Each of our maintenance professionals have 20+ years of experience combining to over 150 years of providing results that exceed expectations. Whether a helicopter in need of some TLC, or a change of mission for your helicopter, Meridian Helicopters will tailor a solution for you.
Maintenance and Inspection – Routine or heavy
Dynamic Component Overhaul
Completions and Modifications
Airframe Sheet Metal and Composite Repair
Avionics Wiring and Installation
PROJECT:

1996 Bell Helicopter 206L4
TTAF – 13,726.5 hrs
Completely refurbished with new interior trim & upholstery
New exterior paint 2020
Helicopter has been SOLD
PROJECT:

1990 Bell Helicopter 206L3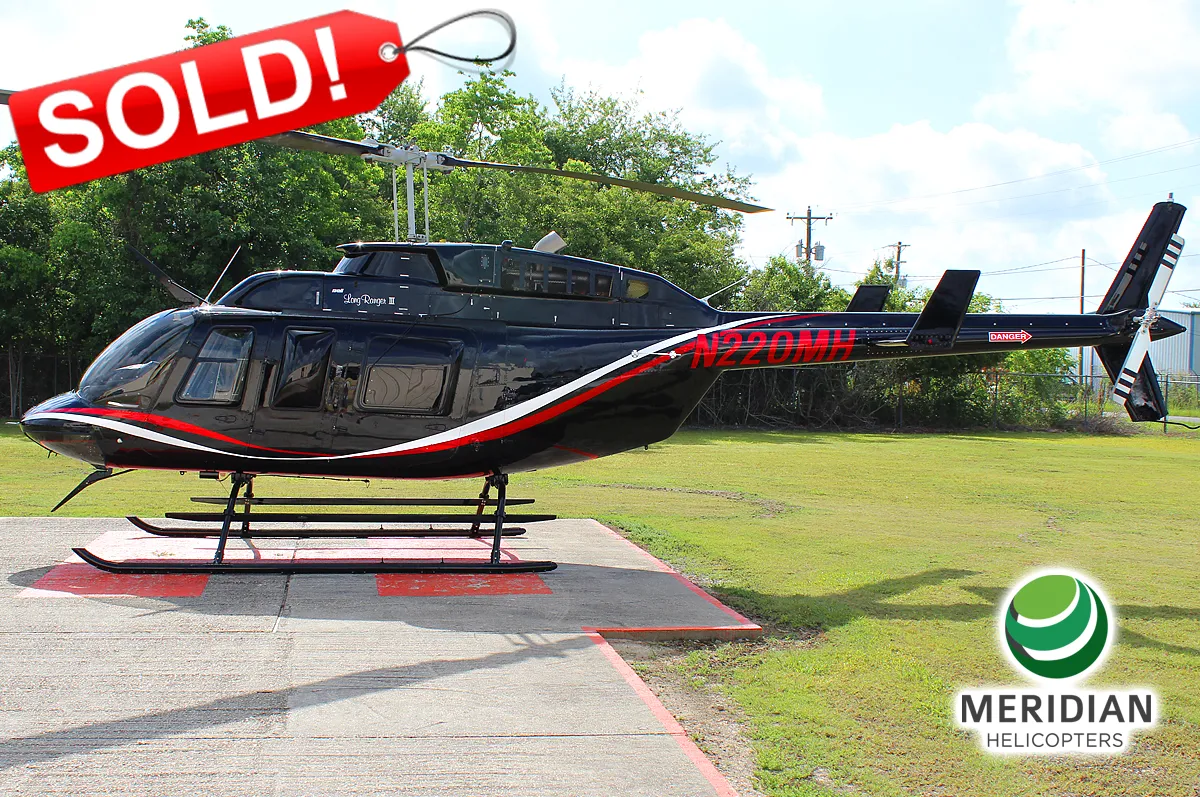 TTAF – 11,767 hrs
Dynamic Component Overhaul
No offshore history
Helicopter has been SOLD
A Helicopter Refurbishment Story
PROJECT:

1995 Bell Helicopter 206L4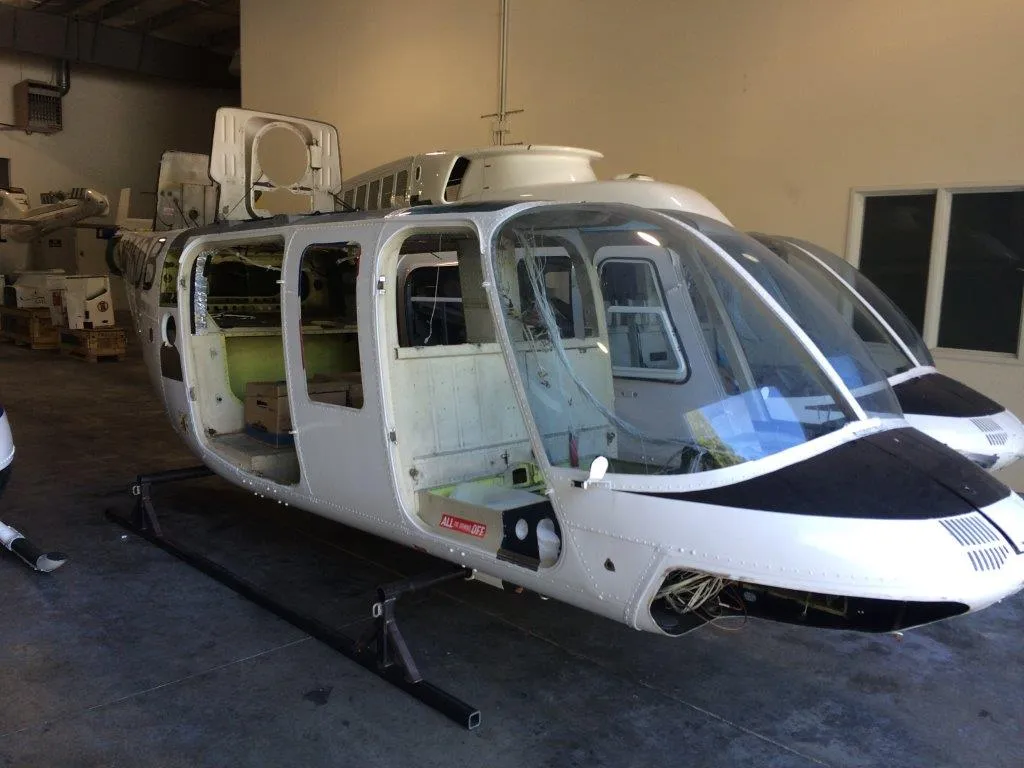 The helicopter was received mostly disassembled and had been sitting idle for a few years. Destined for a customer, the expectations for the helicopter were to configure primarily for utility missions while providing interior and exterior solutions for VIP passengers. Meridian Helicopters worked closely with the customer to plan and execute an end product with specific mission capabilities. Follow along to catch the full story.
Airframe
With offshore history a concern to the airframe, doors, tailboom, and fins the helicopter was further disassembled down to the bare hull and all paint was removed. Our sheet metal and composite experts worked to correct any defects and arrest any corrosion that was discovered. The interior of the hull was treated with the same care. The cockpit, under the seats and hat rack area were paint stripped and inspected. All helicopter cowlings were stripped inside and out, inspected and refurbished. The result is a like new airframe with the utmost care and attention to the weight of the final helicopter.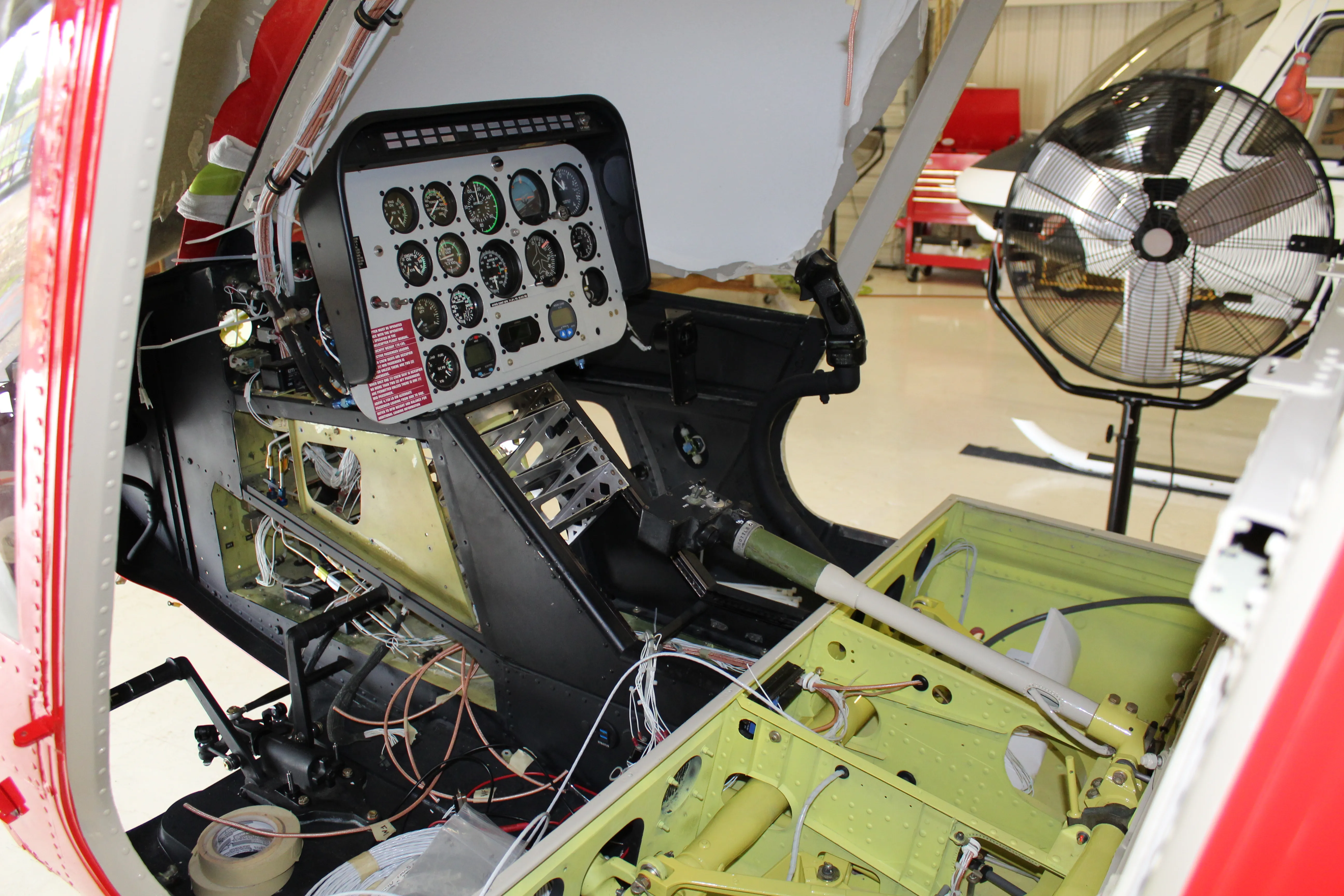 There is nothing like a beautiful coat of paint to make a helicopter stand out in a crowd. We believe that paint accentuates the true quality of a rebuild. Great effort is taken when readying a helicopter for paint. Surface treatments and leak protection provide a solid foundation for the application of a quality paint application.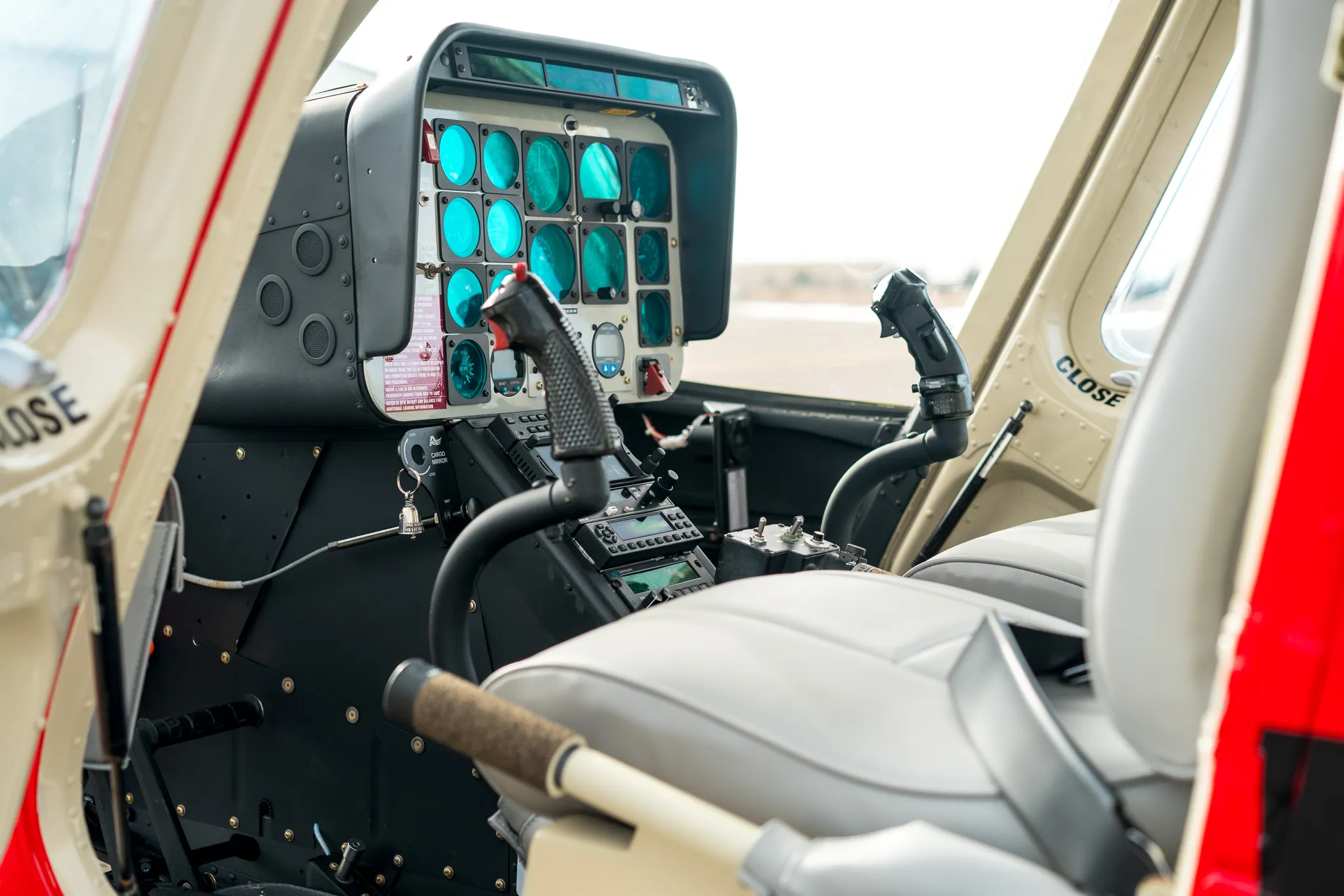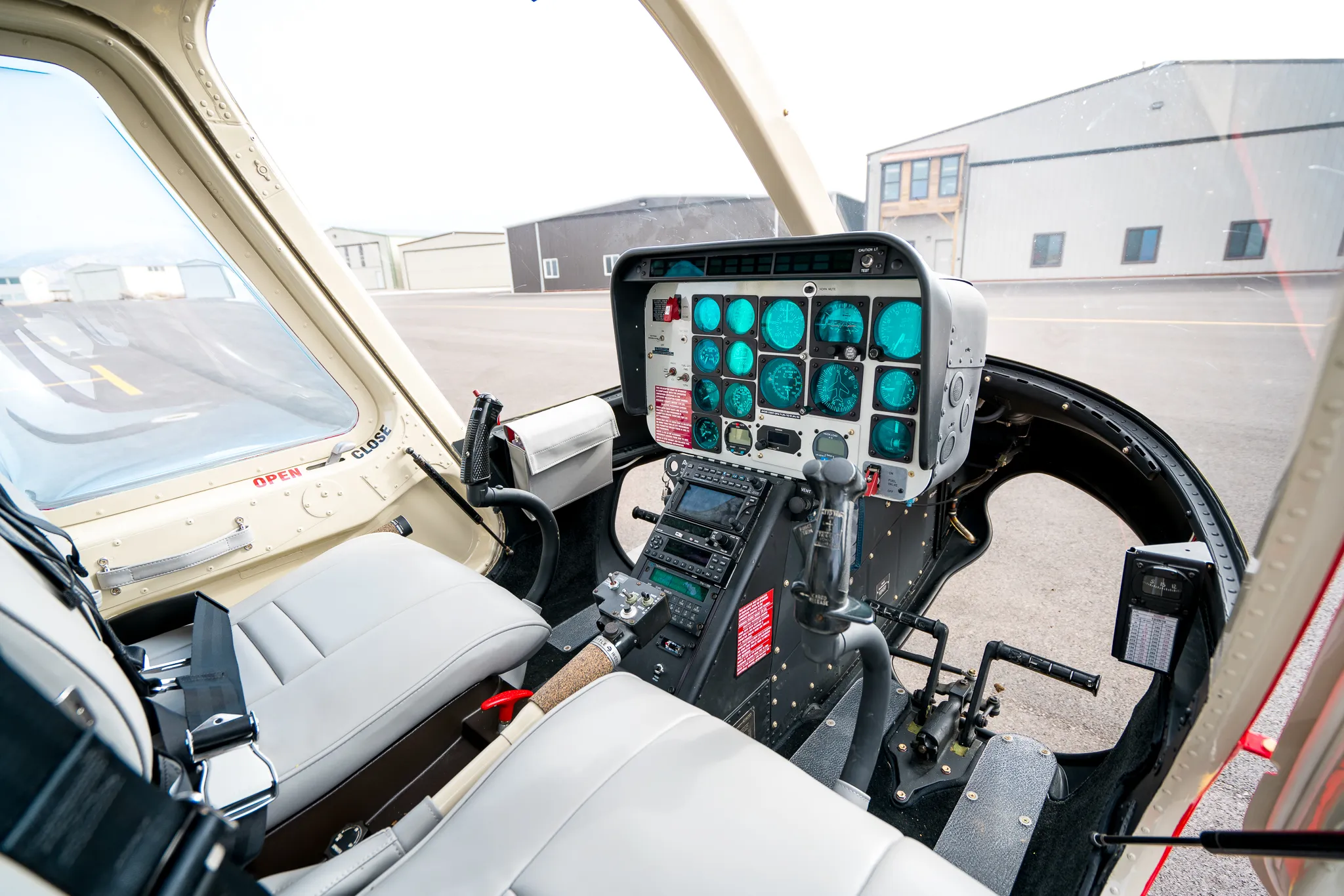 The customer for the helicopter had specific requirements for the avionics package. Touch screen GPS, ADS-B out compliance, Night Vision, and a few creature comforts rounded out their requests. Installed from scratch with new harness, plugs and equipment our avionics experts sweat each and every detail in producing the desired configuration combined with esthetic appeal.
Components and Engine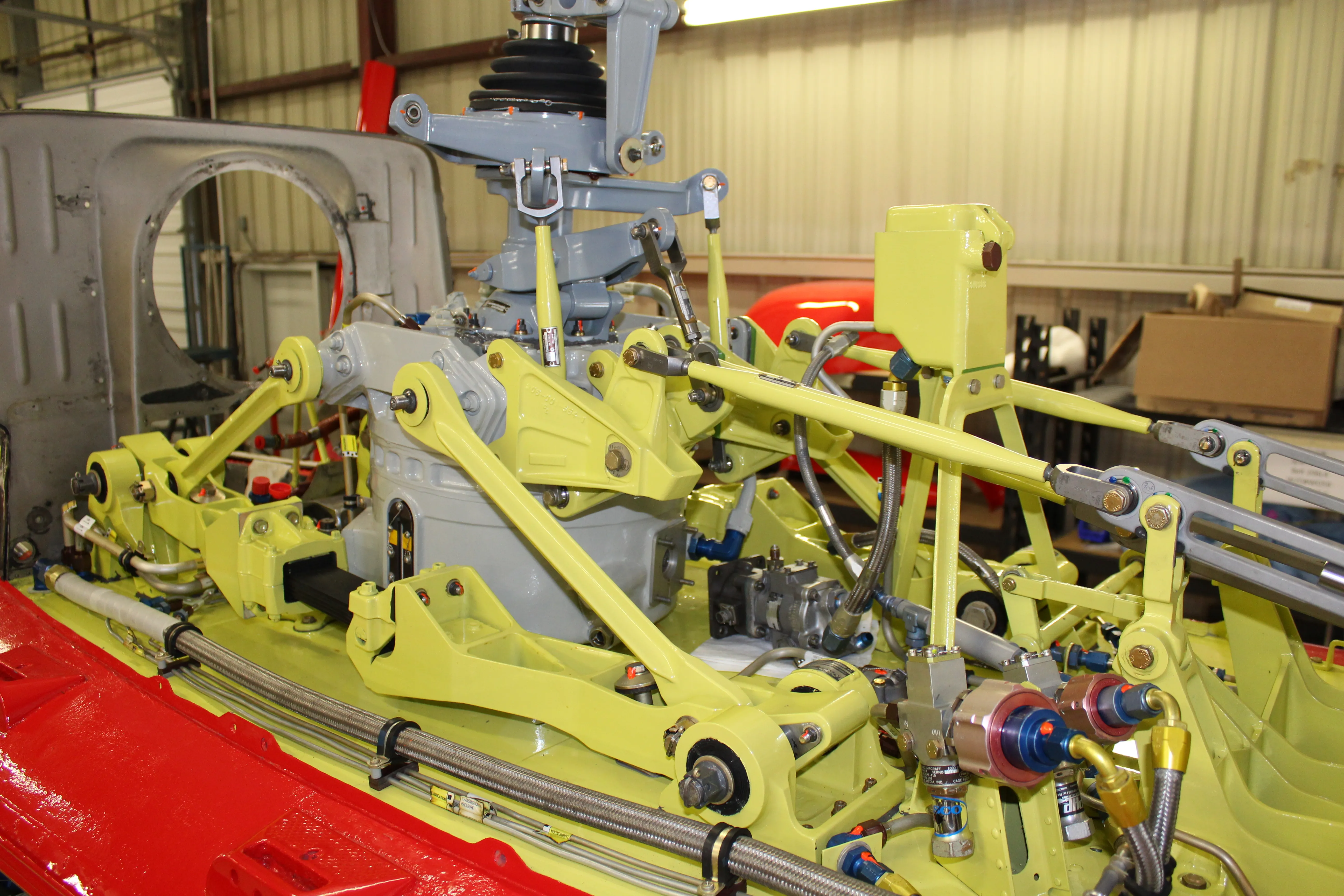 Refurbishment of a helicopter is about keeping the helicopter flying – whether it be for contract, training and skills development, EMS, or taking the family to the lake. The expectation for the customer was 70% weighted time remaining across all engine and component airworthiness limitations to include 1200 hours before any required component maintenance. We achieved this with our in-house component overhaul capabilities and experience. Meridian Helicopter has developed numerous partnerships allowing for cost effective component and engine maintenance with no compromise to safety.
Kits and Completions
Depending on the intended helicopter mission or multi mission, we have the experience to provide kit and STC installations for the helicopter. This particular customer required items such as landing light, cargo hook with load cell, external torque meter, skid mounted cargo basket and dual flight controls. Our team of experts performed the installations to the customer specifications. Door openers, USB charging ports, etc. completed the customer wish list.
Interior, Trim and Windows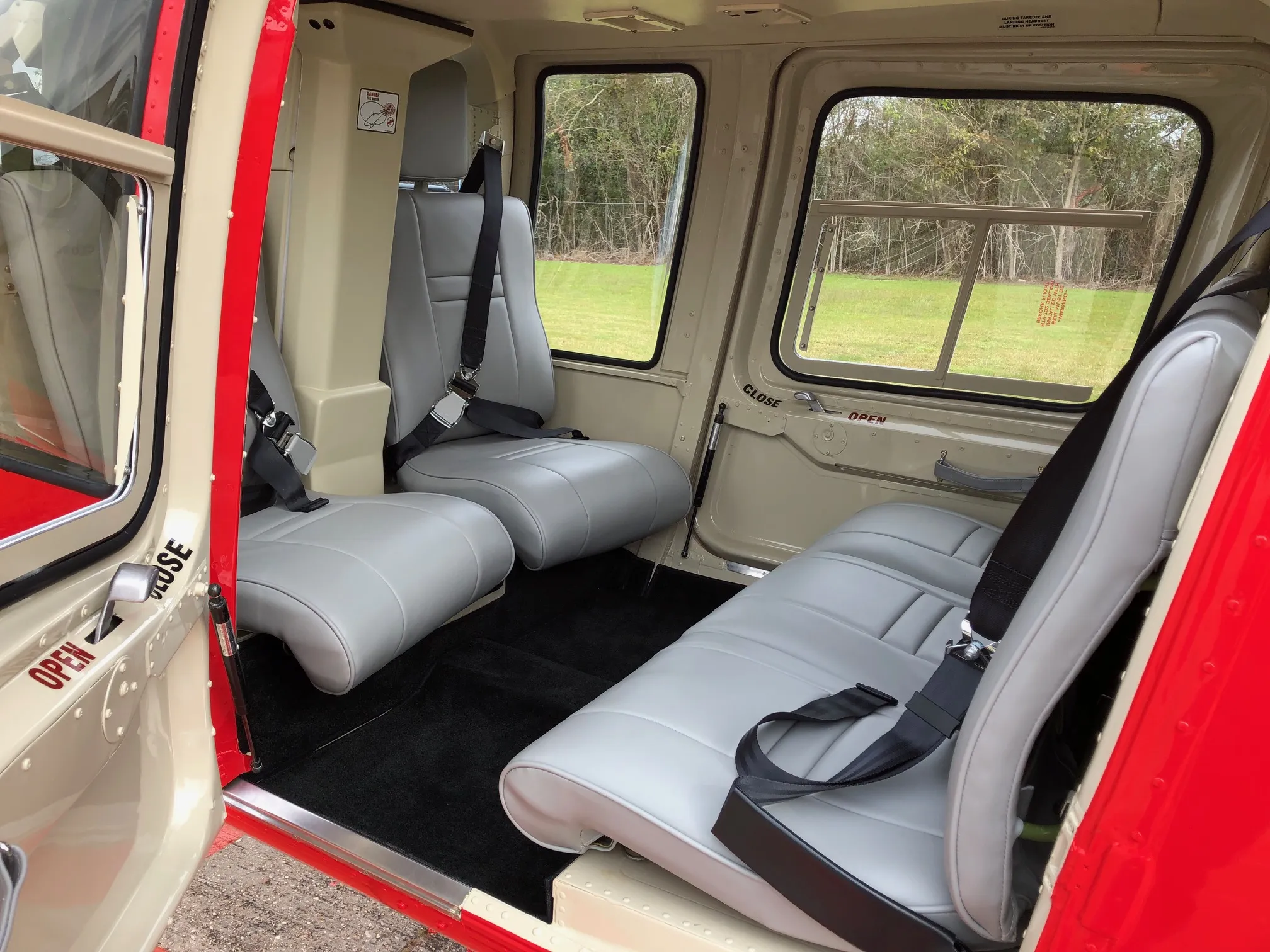 Our customer provided details of their vision for the helicopter interior. Colors and trim styles were selected to include new interior upholstery. All seats were recovered with new materials, the trim was fit with the precision required for a detailed and polished end result. All exposed interior panels and flight controls refinished with matching boots, pockets and handles. Completing the interior package was the addition of all new restraints. The airframe was then fitted with new windows to customer specifications to include passenger wedge windows with bulged pilot and co-pilot windows.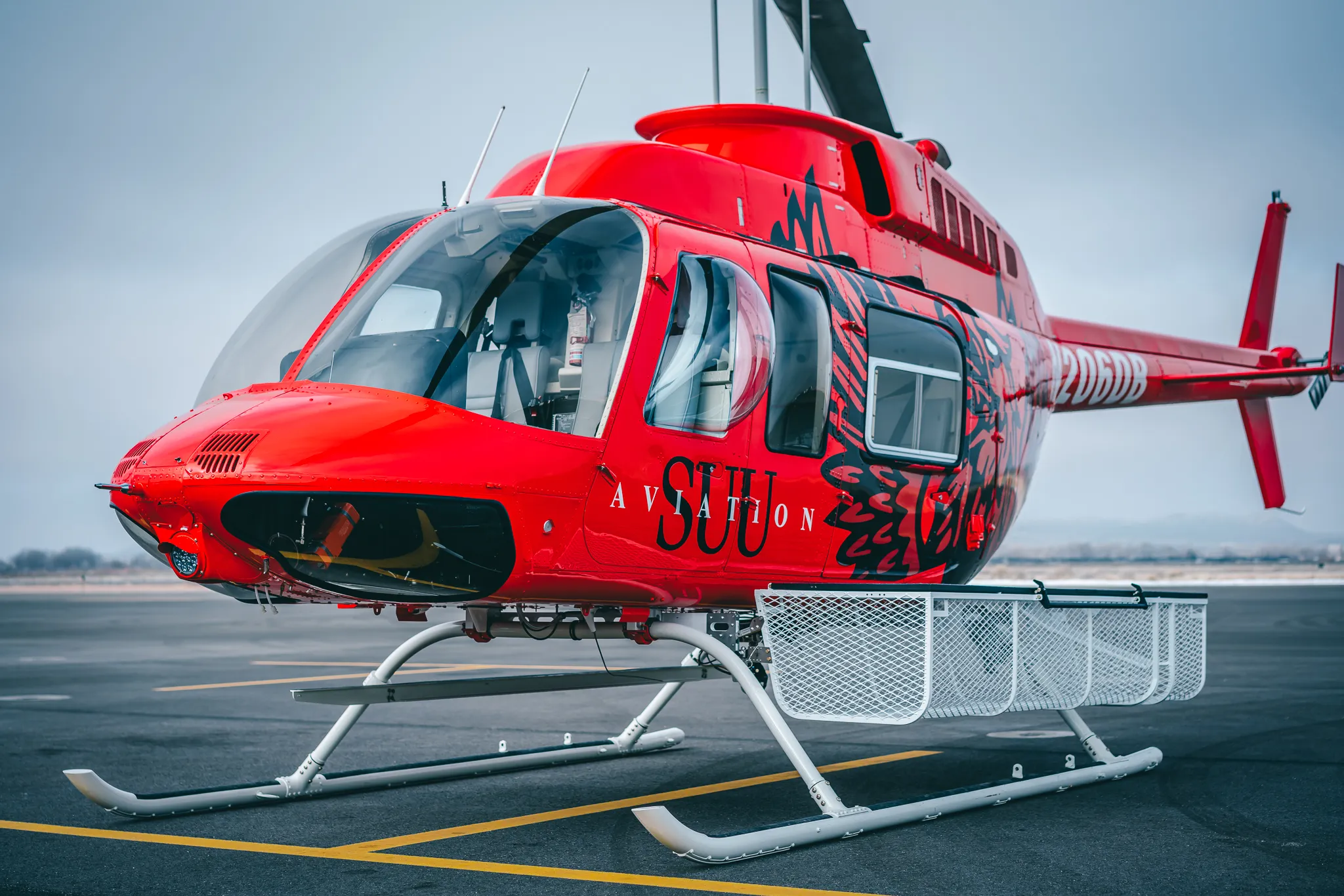 The On-Time-Delivery of the helicopter now completed to a happy customer. Meridian Helicopters is proud of each and very delivery we make to a customer. When we asked the customer for a testimonial of our work, they responded, "How about we simply order another?"